Having moved north to Perth from the countryside 'down south' I thought that we'd be scurrying to the Margaret River Region for the best walking trails or bike paths.
But every weekend we're discovering new places to get out and enjoy Perth's varied scenery, and if you enjoy getting out in the open you'll find plenty of walks in Perth, from the north to south, and east to west. Here are three of our favourites.
Discover Easy Walks in Perth
Kings Park
King's Park in Perth is surely one of the most beautiful botanical parks in the world, leaning as it does right out over the city, casting its colourful eye over the Swan River from Mount Eliza. You can enjoy glorious views of the Swan River as you wander along the top of the Mount Eliza Escarpment or walk a little further inland to explore the unique flora of the Kings Park bushland.
The Bushland Nature Trail walk offers a unique encounter with Western Australia's famous wildflowers, trees and birdlife in their natural environment.
This is an easy 25 minutes loop walk. It's suitable for most groups including families and people with disabilities.
Free Guided Walks are conducted regularly through the winter-spring period in King's Park. Check them out at the visitor's desk near the gift shop and cafes.
Walk amongst the treetops on the Lotterywest Federation Walkway (above left). The bridge is open from 9am to 5pm daily.
Or follow the Boodja Gnarning Aboriginal Walk Trail below.
When you're walked out stop for lunch or a coffee at one of the cafes, and pop into Aspects of Kings Park gallery shop.

Kings Park fast facts
Kings Park is open 24 hours daily and entry is free. The visitor information centre is open from 9.30am to 4pm daily.
The park is located along Fraser Avenue.
Take the Transperth Bus No. 935, or the  Green CAT which stops just outside the park.
Araluen Botanic Park
Araluen Botanic Park is actually like Heaven in the Hills, an extraordinary garden located in the Darling Range, just 35km south-east of the Perth CBD. The park is open everyday of the year, except Christmas Day. It's nestled in serene Australian bushland and it's not only a great walking spot but also a lovely picnic spot for families.
Take a gentle meander around this lovely wooded valley. Expect massed plantings of tulips and daffodils in springtime, and fragrant roses (there are 3000 rose bushes) at the beginning of summer. We love being in the woodland and just walking by bumbling streams, and by the lake and enjoying nature at its best far (but not too far) from the beat of the city.
Araluen has it's own microclimate of little wind, high rainfall and loamy soil which means the Park's horticulturists can plant trees and shrubs creating a garden unique to the Perth region.
I wrote about Araluen last year – if you'd like to see more information and photos: Heaven in the Hills: Araluen
You'll find Magnolias, Acers, Daphnes and Lilacs along with millions of bulbs in Springtime. The Camellias are world acclaimed and now recognised as one of 28 Camellia Gardens of Excellence worldwide.
Araluen Fast Facts
The spring flowers are generally at their best in September. The park is then ablaze with massed paintings of tulips and other spring blooms.
Whenever you visit you will find streams, plenty of picnic spots, and bush walks.
The Chalet Healy Cafe is open from 10am to 4pm. There's also The Roundhouse Gift Shop.
Araluen is near Roleystone, about a 35 minute drive from Perth. 362 Croydon Road, Roleystone.
You might also enjoy "Why a Walk in Nature is Good for You."
Statham's Quarry Walk Perth Hills
In the Hills area of Perth about 40 minutes from the CBD you'll find an area with the gorgeous name of Gooseberry Hill.
Statham's Quarry is the site of a quarry on the Darling Scarp on the southern side of the entrance to the Helena River valley on the Swan Coastal Plain, in Gooseberry Hill National Park.

Distance: 5.9km
Time: 2 – 2 ½ hours
Grade: 4
Location: Gooseberry Hill National Park, Lascelle's Parade, Gooseberry Hill
Description: A fairly strenuous walk, with a few loose stony sections. The views are spectacular and the wildflowers in spring are magnificent. The walk gives access to the now disused Statham's Quarry. A major attraction on this walk is the now unused Zig Zag railway built to take timber from the hills to Midland Junction.
NB: This is more of a walking trail than a meander, so come prepared with good shoes, sun protection, a good map and make sure to follow the signs. Bring adequate water and a small medical kit.
Read more about Statham Quarry Walk and download maps and information..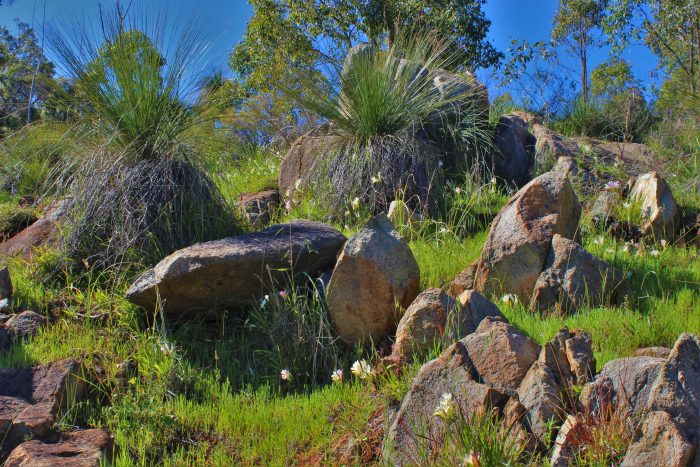 Do you have any suggestions for beautiful but easy walks in Perth?
Please follow and like us: